It's that time again when we get to be nosey, how my Nan would have loved this! She used to sit in her chair by the window and watch the goings on of Barnet Way. Years later when she was in a nursing home I moved into her flat with my partner and we lived very happily there for several years. It was lovely having my boys in my Nan's flat, walking the same streets I used to walk to school. I love the connections to the past we can have through objects. What's this got to do with
WOYWW
? Well, I'll show you:
Today I will be making bunting using my Nan's sewing machine. My Mum gave it to me just over a year ago along with her sewing box(more of an ice cream tub to be honest) I love that when I am sewing I am using something that my lovely Nan used. One thing to get straight though, the sewing machine was Nanny Battes' and the flat was Nanny Shaw's! Nanny Shaw used to knit, not something I ever got into, I tried once but I wasn't very good.
My friend Siriorn is coming later on to do some sewing with me. She is amazing! She has made loads of bags using the washable vinyl with funky patterns on. They are in the style of Cath Kidston, she saw them in the shop and took one look at the price tag and thought, 'I could make those', so she did! Hopefully if we have enough stuff by 19th February I will be doing a craft sale, if not it'll be in March.
Another thing I have to do today is make a first birthday card for my great-nephew, Corbin. He is American so I wanted a British theme, unfortunately the stamps I've ordered from America (ironic the fabby British style stamps are American) haven't arrived yet so my plans have changed to an animal theme. A few years ago I bought some CDs from
Kirsty Wiseman
and to be honest I haven't really used them that much as I much prefer creating something myself. However, they are useful when you are stuck! It also led to me forming a friendship with Kirsty, so all is not lost. She has just launched a new digi stamp range called Ingalilly which are quite sweet.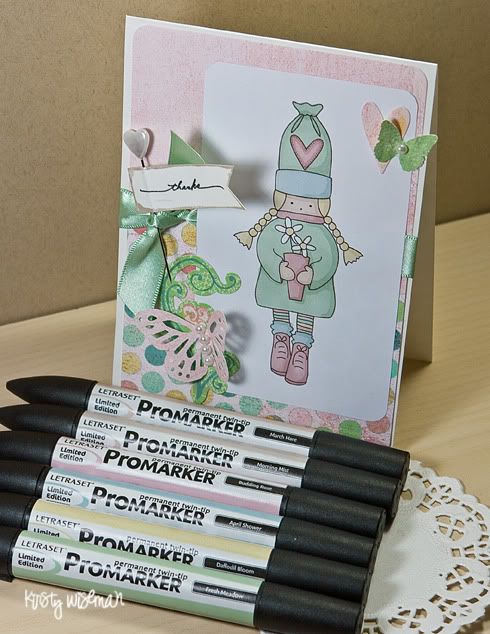 This card was designed and made by Kirsty, not me!! Just so as you know, she has signed it in the corner!
Check out her blog or website for more inspiration.
Well this won't get anything done will it? Enjoy your table hopping, I'm going to try and 'visit' at least ten today!
Thanks for stopping by.